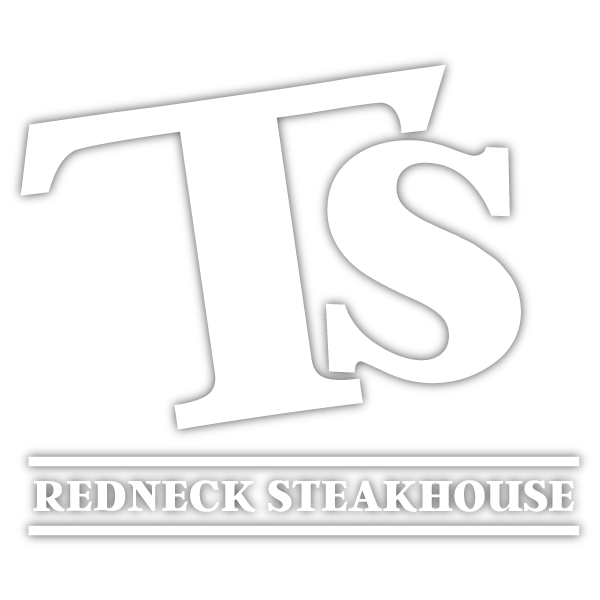 14oz. Redneck Ribeye –
$27.99
This cowboy-cut (bone-in) ribeye is for the steak lover.  
Sirloin –
$16.99
Our sirloin is top of the line for flavor and tenderness.
Hamburger Steak –
$13.49
Half a pound of seared ground beef, served with two sides.
T's Filet of Beef –
$12.29
Our 6oz. beef tenderloin is cut from the center.
Hand-Cut Ribeye (10oz.) –
$16.99
USDA Choice ribeye loins.
K.C. Strip – 8oz. $14.39 –

12oz.

$17.99
Cut in-house from USDA choice strip loins
T's Beef Tips –
$16.29
Hand-cut tenders from USDA choice beef.
Prime Rib – 8oz. $19.99  

12oz.

$23.99
Hickory smoked, served with horseradish and au jus. 
Served after 4PM on Friday-Saturday, All day Sunday.  
SIDES
$2.59 each unless included with meal. 
Housemade Potato Chips – Baked Beans – Fried Okra – Baked Potato – Baked Sweet Potato – Onion Rings – Sweet Potato Fries – Cream Cheese Corn
Mashed Potatoes With Gravy – Hand-Cut Fries – Cole Slaw
Steamed Broccoli – Dinner Salad – Green Beans – Mac & Cheese – Tater Bucks

221 Evergreen Pkwy
Lebanon, MO 65536
Monday – Friday: 11 am – 8pm
Saturday – Sunday: 11am – 10pm